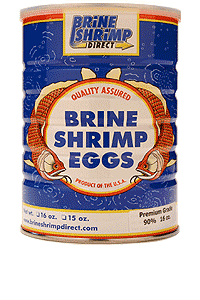 Premium Grade Brine Shrimp Eggs
We guarantee a minimum hatch-out of 255,000 nauplii (baby brine shrimp) per gram of cysts following a 24 hour incubation period. Based on the most recent harvest, this equates to an average hatch-out of over 90%. Feel confident purchasing brine shrimp eggs from Brine Shrimp Direct. We will return your money if you do not achieve the specified hatching results. Eggs are thoroughly disinfected in a hypochlorite solution during processing. Inventory is periodically tested, stored in a temperature-controlled (40 degrees F) warehouse, and packaged on demand.

Please visit our FAQ and Resources pages to find useful tips on hatching and storage procedures.
We also emphasize the importance of long term storage of eggs in a freezer and/or short-term refrigeration!
Subject to availability
.
1.75 oz. (50 gm.) net weight, PET Jar. Store under 50 F. Keep jar tightly sealed to prevent moisture from entering.

$8.25

8 oz. (227 gm.) net weight, PET jar. Store under 40 F. Keep tightly sealed to prevent moisture from entering.

$27.95

1 Lb. (454 gm.) net weight per can. Store under 40 F. Keep cans tightly sealed to prevent moisture from entering.

Quantities subject to availability

$49.95

6 x 1 lb (454 gm.) net weight per can. Store under 40 F. Keep cans tightly sealed to prevent moisture from entering.

Domestic Priority Mail Shipping Rate of $18.85 available

$297.00

One Case containing 12 cans; 1 lb. (454 gm.) net weight per can. Store under 40 F. Keep cans tightly sealed to prevent moisture from entering.

Quantities subject to availability

$594.00