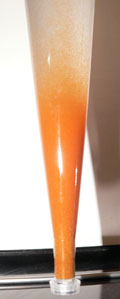 Shell Free E-Z Egg
Hatching Shell-Free Eggs - E-Z Egg
GRADE A (80%) H
atch Rate Brine Shrimp Eggs...without the shell!
"I received my order and let me tell you,I am thrilled. I have dwarf seahorses and the (brine shrimp) egg shells were, well to say the least, a mess. Now I hatch and siphon and feed. No shell worries. Thanks again.
K.R., Pennsylvania."

Brine Shrimp Direct's E-Z Eggs are decapsulated under temperature controlled conditions and then preserved in an inert solution for long-term storage under refrigeration. E-Z Egg eliminates the need for separating live nauplii from unhatched eggs and shell. E-Z Egg product is completely digestible. Set up your hatching apparatus as you would with normal cysts, adding E-Z Egg at the rate of one measuring spoon (provided) or approximately two grams per liter of hatching solution. Aerate for 18 - 24 hours, siphon, rinse and feed! Not suitable for use in the Hatchery Dish. This product is best if used within 3 to 5 months.
E-Z Egg can even be fed directly, without hatching. Simply rinse and feed 100% digestible E-Z Egg.

We require 3 business day shipping on all E-Z Egg orders and we do our best to avoid transit over the weekend. If you live within a two or three day FedEx Ground transit time of Utah, e.g. Arizona, California, Oregon, Washington, Nevada, Idaho, etc., please call in your order so that we can override the expedited shipping requirement and ship using FedEx Ground Service. 1-801-782-4700. This item ships on Mondays, Tuesdays and Wedesdays.

The unhatched portion provides an excellent, non-motile, digestible source of protein and lipids which can either be fed together with the free-swimming baby brine shrimp or refrigerated or frozen and saved for later. Hatching times for E-Z Egg vary and are temperature sensitive. At 75-80 degrees Fahrenheit, allow 18 - 24 hours for maximum yield. This product requires refrigeration to ensure shelf-life and viability.
This product is also available in 5 kgs bulk. Please call or email for pricing.