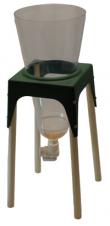 Large Brine Shrimp Hatchery Cone with Stand, 2-Liter capacity. Equipped with stopcock (valve) for draining and harvesting. Includes rigid tubing, air hose, splash cap, air regulating valve and collection cup.
$34.95

Laboratory quality, one liter (approx. one quart) Imhoff cones are used extensively in the industry to produce consistent results when hatching brine shrimp egg.
$43.95

Stainless steel rack holds one to three Imhoff cones. This arrangement is great for scaling up production of artemia for serious breeders with multiple tanks and multiple feeding requirements. Cones sold separately.
$45.95
$45.95