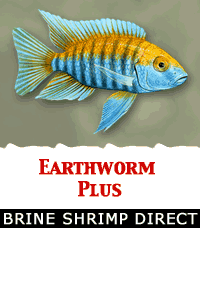 Earthworm Flake Plus
Earthworm Plus is intended as a specialized maturation diet made with premium ingredients, including fresh Canadian Nightcrawlers (Lumbricidae sp.). Earthworm Plus is dried at much lower temperatures than conventional flake so that the benefits of using fresh, Canadian Earthworms are not lost in the processing! Ideal for conditioning breeding pairs! Compared to other proteins, earthworms are one of the best and most complete sources of amino acids for fish.
Proximate Analysis:
Protein 42%; Lipids 12%, Ash 7%; Moisture 7.5%.
Ingredients:
Yeast and yeast extracts, soy, egg, wheat gluten, earthworm (by dry weight), milk byproducts, zooplankton, kelp (rockweed), spirulina, lecithin, Carophyll (source of astaxanthin), vitamin and mineral premix, stabilized VitaminC.
Contains no artificial colors or preservatives.
Ideal for conditioning breeding pairs! Compared to other proteins, earthworms are one of the best and most complete sources of amino acids for fish.

$6.95

Earthworm Flake Plus is dried at much lower temperatures than conventional flake so that the benefits of using fresh, Canadian Earthworms are not lost in the processing! Ideal for conditioning breeding pairs! Compared to other proteins, earthworms are one of the best and most complete sources of amino acids for fish.

$16.95

Earthworm Flake Plus is dried at much lower temperatures than conventional flake so that the benefits of using fresh, Canadian Earthworms are not lost in the processing! Ideal for conditioning breeding pairs! Compared to other proteins, earthworms are one of the best and most complete sources of amino acids for fish.

$42.95

Earthworm Flake Plus is dried at much lower temperatures than conventional flake so that the benefits of using fresh, Canadian Earthworms are not lost in the processing! Ideal for conditioning breeding pairs! Compared to other proteins, earthworms are one of the best and most complete sources of amino acids for fish.

$137.40