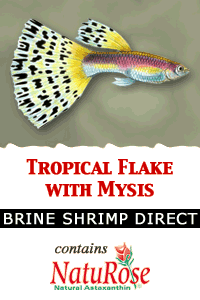 Mysis and Garlic Flake
NOW WITH GARLIC An excellent staple diet to maintain health and vigor.
Mysis and Garlic Flake contains fresh frozen mysis shrimp in a balanced blend of hydrolized marine fish protein, soy protein, egg, wheat gluten, zooplankton, spirulina, garlic, Paracoccus, marine fish oil, stabilized vitamin C, and other important vitamins and minerals. No artificial coloring or ethoxyquin added.
Proximate Analysis (calculated values): Protein, 47%; Fat, 12%; Ash, 6%; Moisture, 6%. Provides essential amino acids required for growth and survival. Feed twice daily only as much as your fish will consume in five minutes. Will not cloud water if fed properly. Order today and start improving your aquarium's nutritional needs with our complete line of specialty products.
2.5 oz. (71 gm.) net weight, PE jar. Store in a cool, dry place.

$4.95

11 oz.(312 gm.)net weight, poly-container. Store in a cool, dry place

$9.25

2 Lb. (908 gm.) net weight, reusable PE container. Store in a cool, dry place

$19.95

9 Lb. (4.08 kg.) net weight, reusable 5 gal. PE pail. Store in a cool, dry place.

$72.95

20 Lb. (9.09 kg.) net weight, bulk carton with liner. Store in a cool, dry place.

$157.00