Brine Shrimp Hatching Kit
Brine Shrimp Hatching Kit
The most expedient and inexpensive brine shrimp egg hatching apparatus on the market.
Ideal for Very Modest Hatching Needs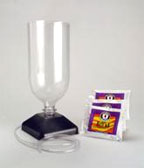 This inexpensive hatchery consists of an epoxy base that holds an inverted plastic two-liter soda bottle as the incubation vessel. Insert the air hose into the hatchery base, add salt water and eggs, and you're ready to go! Included with the Hatchery Kit are three packets of "Hatch Mix" (salt and brine shrimp eggs*) along with detailed instructions.
Note: Remove plastic ring from bottle before attaching bottle to base.
---
*The brine shrimp eggs that are included in the kit are not processed, packaged, or tested for quality by Brine Shrimp Direct. We do not make any representations as to the hatch-out quality of these eggs. As always BSD recommends that you buy eggs that have been recently tested for quality and that are always guaranteed.
---