Multi-Media Air Lift Filter (UniFilter)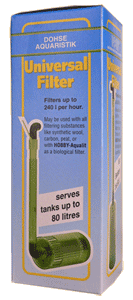 The UniFilter can be used in any number of ways to provide mechanical filtration, biological filtration, water circulation and aeration. It performs quietly and effectively. The components are well-constructed and close fitting. One filter is ideal for a 10 to 20 gallon tank. Use multiple units for larger tanks. The UniFilter comes with a synthetic wool medium, but it can easily be substituted with activated carbon, zeolite, peat or other media as desired. Multiple configurations and adjustable lift height make the UniFilter adaptable to almost any tank or water depth.
$8.95
Sorry, this product is sold out.