Flexible, quality plastic airline/tubing. Imported from Germany. Sold in increments of one meter.
$1.95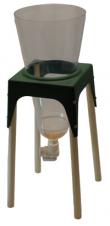 Large Brine Shrimp Hatchery Cone with Stand, 2-Liter capacity. Equipped with stopcock (valve) for draining and harvesting. Includes rigid tubing, air hose, splash cap, air regulating valve and collection cup. BONUS: 1.75 ounce Grade A Brine Shrimp Eggs
$39.95

A 3" square net made with fine nylon mesh, suitable for catching live brine shrimp and small fish with delicate fins.
$1.95

The Artemia Sieve is both a practical and effective way to collect and rinse baby brine shrimp before introducing them into your fish tank.
$5.95