This simple to use brine shrimp hatchery is ideal for the hobbyist, science fair student, teacher, or aquarist who treats their fish to the occasional live treat. No aeration required! For a limited time, includes a three month supply (50 gram) of Grade A Great Salt Lake Brine Shrimp Eggs.
$25.95
Sorry, this product is sold out.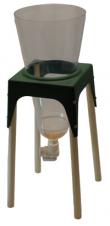 Large Brine Shrimp Hatchery Cone with Stand, 2-Liter capacity. Equipped with stopcock (valve) for draining and harvesting. Includes rigid tubing, air hose, splash cap, air regulating valve and collection cup. BONUS: 1.75 ounce Grade A Brine Shrimp Eggs
$46.95

The Artemia Sieve is both a practical and effective way to collect and rinse baby brine shrimp before introducing them into your fish tank.
$5.95
Nesting Set of Four Sieves with mesh sizes ranging from 180 micron opening to 900 micron opening.
$12.25