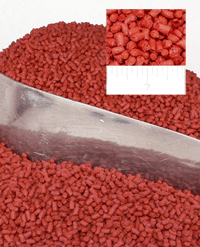 ZPel Floating Pellet
ZPel, Floating is our new, high-protein extruded pellet enriched with marine Zooplankton and carotenoid-rich Spirulina and Naturose. An outgrowth of our popular Flake Diets, Z-Pel is a water-stable, color-enhancing feed for larger cichlids, koi, piranha and aggressive ominovores. Approximately 1/8" diameter.

Proximate Analysis: Protein, Min. 38%; Fat, 10%; Fiber, 6%; Ash, 6.5%; Moisture, 4.5%.
Ingredients: Fish protein hydrolisate, wheat flour, yeast protein, zooplankton, soy, rice gluten, casein, spirulina, Naturose, Vitamin & Mineral premix.