Freeze-dried Rotifers
Freeze-dried Rotifers
TANK TESTED
The Naturally Enriched Feed for Nearly All Larval Fish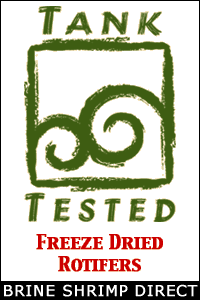 The small size (100-200 microns) of this zooplanktonic organism allows them to be easily ingested into the mouths of baby fish. Naturally enriched by microalgae, rotifers are highly digestible.
Our convenient freeze-dried form of this widely used feed enables anyone to deliver nutrition to their valuable aquarium fish without the hassle and unpredictability of live cultures or "greenwater."
Scale-up your production with confidence! Freeze-dried Rotifers are nutritious and affordable.
---