Assorted Algae Pastes
Assorted Algae Pastes
We currently offer four specialty algae paste products:
NOTE: All frozen products must be shipped Next-Day or Second-Day Air!
---
"Grade A" Natural Feed
Marine microalgae has long been considered the most nutritious feed for saltwater invertebrates and filter-feeders. Brine Shrimp Direct takes pride in being the official online distributor for Reed Mariculture's Instant Marine Algae concentrates.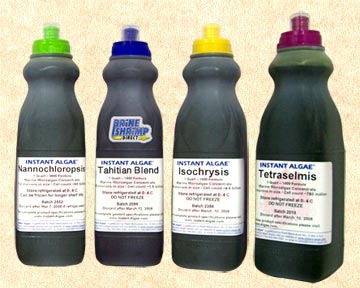 Our Instant Algae products are cultured in closed-system photobioreactors using state-of-the-art control systems to monitor the essential growing parameters. This results in a pure, non-contaminated, high-quality product at an affordable price. Don't miss our article on the benefits and usage of microalgae in reef tanks.
These microalgae pastes contain a food-grade cryopreservative to prevent freezing and lysing of the algae cells when kept below freezing temperatures. Therefore, the paste remains liquid when frozen and can be kept for several months without losing its nutritional value.
Note: Store unused algae paste in the freezer.
---
The Brine Shrimp Direct Advantage
Receive Greater Value
Brine Shrimp Direct has earned a worldwide reputation for outstanding value. We attribute our growth and success to the core belief in providing our customers with greater value for their money.
Form a Relationship with Knowledgeable Professionals
We are eager to help with your needs, and we encourage you to give us a call at:
1-800-303-7914 toll-free
or 801-782-4700
(M-F / 9-5 MST)
Or contact us by e-mail at sales@brineshrimpdirect.com
Feel Absolutely Confident
All of our products are backed by the industry's best guarantee. We believe that when you sell the best products, you can afford to have the best guarantee.
3 Reasons to Feel Great About Brine Shrimp Direct
So many people count on Brine Shrimp Direct for three simple reasons:
best products
best prices
and the industry's best guarantee.
---