Tahitian Blend
Tahitian Blend
Specialty reef formula.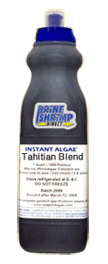 "Grade A" Natural Feed
Tahitian Blend is a proprietary mix of cryo-preserved marine microalgae Instant Algae concentrates from Reed Mariculture. It is specifically formulated for feeding live rock, coral, tunicates, and filter-feeding organisms.
This unique product is a combination of Nannochloropsis, Tahitian Isochrysis, Tetraselmis, and Pavlova Instant Algae concentrates. An inclusion of NatuRose astaxanthin (Haematococcus sp.) spray-dried microalgae provides natural pigments for color enhancement in marine invertebrates.
There are approximately 4-5 drops of algae cryopaste per milliliter. Tahitian Blend is to be fed every other evening at the rate of 1-2 drops per 10 gallons of aquarium volume (at this rate, a 150-gallon aquarium may require 15 to 30 drops.) This is only a guideline and should be adjusted after one or two weeks of observation.
Marine microalgae has long been considered the most nutritious feed for saltwater invertebrates and filter-feeders. Brine Shrimp Direct takes pride in being the official online distributor for Reed Mariculture's Instant Marine Algae concentrates.
Our Instant Algae products are cultured in closed-system photobioreactors using state-of-the-art control systems to monitor the essential growing parameters. This results in a pure, non-contaminated, high-quality product at an affordable price. Don't miss our article on the benefits and usage of microalgae in reef tanks.
These microalgae pastes contain a food-grade cryopreservative to prevent freezing and lysing of the algae cells when kept below freezing temperatures. Therefore, the paste remains liquid when frozen and can be kept for several months without losing its nutritional value.
Note: Store unused algae paste in the freezer.
---