The Artemia Sieve is both a practical and effective way to collect and rinse baby brine shrimp before introducing them into your fish tank.
$5.95

Rigid plastic tubing fits snugly into the end of flexible air hose. Ideal for use in Imhoff cones or other hatching containers to direct air where it's needed without the use of clips or weights!
$1.95

Flexible, quality plastic airline/tubing. Imported from Germany. Sold in increments of one meter.
$1.95

Rotifer Collecting Sieve 53 micron
$13.65

A 3" square net made with fine nylon mesh, suitable for catching live brine shrimp and small fish with delicate fins.
$1.95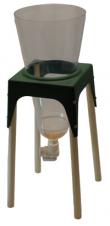 Large Brine Shrimp Hatchery Cone with Stand, 2-Liter capacity. Equipped with stopcock (valve) for draining and harvesting. Includes rigid tubing, air hose, splash cap, air regulating valve and collection cup. BONUS: 1.75 ounce Grade A Brine Shrimp Eggs
$46.95